Ciclesonide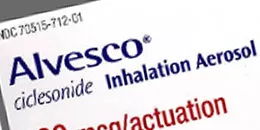 Ciclesonide is an aerosolized corticosteroid medication often prescribed to the patients suffering from asthma symptoms. It helps to relieve conditions such as coughs, wheezing, and breathing problems. It reduces irritation of the respiratory tract and suppresses edema. Ciclesonide is approved for use within the patients aged 12 years and older.
Application
Ciclesonide aerosol is supplied with a special inhaler. It is recommended to make inhalations twice a day at regular time intervals, strictly following the instructions. It is forbidden to change the dosage of the medicine, increase or decrease it without your doctor's advice. You should consult the doctor if you notice that your medication does not work or does not give a positive result for a long time.
It is important to understand that this drug is not used to suppress an asthma attack. It is used to prevent an asthma attack and control the symptoms. Usually, when patients take Ciclesonide, they begin to notice a positive effect after about a month of daily use of the drug. If you feel good and do not experience any symptoms that bother you, then you should continue taking the drug. As the medicine does not help you to control your asthma symptoms, you should not make any changes to your treatment without consulting your doctor.
One inhaler holds 60 doses of the medication. Therefore, it is enough for 60 inhalations. Try to keep your inhaler filled with medication, as it should be used daily. Try to get a prescription from your doctor or pharmacist ahead of time to fill the inhaler.
Carefully read the instructions for use of the inhaler before the first intake. If you have any questions, then ask your doctor. Ask the doctor or pharmacist to show you how to use the inhaler correctly.
After each use of the medicine, rinse your mouth with water to avoid developing an infection in the mouth. It is recommended to clean the inhaler with a dry cloth once a week. Do not try to take the inhaler apart or wash it with water. Thus, you can break the inhaler and need a new device.
Precautions
Be sure to tell your doctor if you are taking any other drugs. Tell him or her if you are allergic to any substance, medicine, or food. Ask your doctor for a complete list of contraindications and substances that interact with Ciclesonide.
Remember that if you have an asthma attack, then Ciclesonide will not be effective. In this case, other rapid-acting inhalation medications should be used.
Tell the doctor if you will have any surgery during your asthma treatment with Ciclesonide, even if it is dental surgery. You should be aware that using this medication may cause breathing problems and wheezing after inhalations.
Side Effects
Possible side effects of Ciclesonide include: runny nose, headache, swelling of the throat or nose, hoarse voice, back or arm pain, joint pain, sore throat. If you start experiencing any of these symptoms after taking Ciclesonide, then you should see your doctor immediately.
You should seek immediate medical attention if you get any of the following serious adverse reactions: rash, facial swelling, hives, itching, chest pain, trouble swallowing.
This list of side effects is not complete. Therefore, you should consult the doctor and get from him a complete list of side effects before taking the medication.
It should be taken with caution within children, as there is a risk of slowing the growth of the child. The use of the medicine among children should be discussed with the doctor.
Comparison