Dulera vs Advair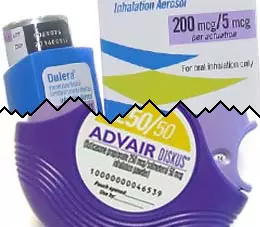 What to choose Dulera or Advair
The medications, which are produced for fighting the symptoms of asthma, include the drugs Dulera and Advair, which come in the form of inhalers and have some similarities and different features. They will be described below.
Advair and Dulera contain different components, but their mode of action is similar. Both inhalers contain two components: a beta agonist and a corticosteroid, which are produced to relieve the reactions such as wheezing, coughing and breath shortness. They are a part of the continuous asthma treatment.
Advair
You should consult your healthcare provider if you have a pregnancy, planning to become pregnant, or breastfeeding before the doctor prescribes the Advair drug, as it is of category C drug for pregnant women.
The Advair inhaler is manufactured by GlaxoSmithKline. It is usually used twice daily among patients over 4 years of age and older, who suffer from asthma and COPD, and it comes in the forms of an aerosol inhaler and a powder inhaler.
Advair costs about $ 500 for 1 inhaler. The drug interacts poorly with MAO inhibitors, diuretics, beta-blockers, tricyclic antidepressants and CYP3A4 inhibitors.
Side effects that can be caused by taking Advair are: pharyngitis, bronchitis, vomiting, speaking problems, oral candidiasis, sore throat, muscle pain, dizziness, headache, infections.
Dulera
Like Advair, it should be used with extreme caution if you are in the period of pregnancy. Therefore, be sure to tell your doctor if you are pregnant, lactating, or planning to become pregnant. You may need to change the medication.
Dulera is an aerosol for inhalations that is manufactured by Merck & Co. and is intended for patients 12 years of age and older. Unlike Advair, it is only prescribed for the treatment of asthma. It is not prescribed for the treatment of COPD symptoms. It comes in the form of an aerosol inhaler. Typically, the patient needs 2 inhaling shots twice a day. The exact dosage of the medication can only be prescribed by the doctor. Dulera's price is about $ 400.
Dulera may interact poorly with other drugs, such as MAO inhibitors, CYP3A4 inhibitors, beta-blockers, diuretics, tricyclic antidepressants.
Common side effects that can occur when taking Dulera include: oral candidiasis, headache, pharyngitis, respiratory tract infections, and sinusitis.
Output
If you experience severe asthma symptoms, then you may be prescribed Dulera or Advair, as they both have similar effects and are intended for a long-term therapy to suppress bronchospasm. The Advair inhaler, unlike Dulera, can be used to reduce the symptoms of COPD.
Before your doctor prescribes a medicine for you to suppress asthma or COPD symptoms, you should tell him or her about all the drugs that you are taking, as well as any illnesses you have had recently.
These two drugs have different age restrictions, which should be considered when choosing them. Advair is available in a wider variety of forms: powder or aerosol. Dulera is produced only in the form of an aerosol.
Consult your doctor for a complete list of possible side effects and carefully read the instructions for use of the inhaler. If you have any questions about the use of your medication, contact your doctor. Follow the doctor's advice and seek medical attention if you feel unwell.
Their adverse reactions are similar as well as interactions with other drugs. Both inhalers include a corticosteroid that can cause a fungal infection in the throat if not rinsed with water after using the drug.
Dulera and Advair Comparison