Inhalers Shortage in the USA
4/3/2020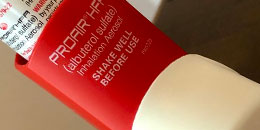 The US health care system has recently been anxious about the growing shortage of inhalers that are used as a part of the treatment of the patients with coronavirus.
Many patients with a coronavirus respiratory disease in the US receive inhaler therapy taking the medication Albuterol. The number of patients is growing rapidly every day. This causes a shortage of inhalers, not only for the patients affected by the coronavirus infection, but also for people suffering from asthma, constantly using the inhaler.
Demand for Inhales
The US hospitals in March ordered the number of inhalers that is twice more than the number of inhalers ever ordered. The inhalers producers are planning an increase in the production, but there is a significant shortage observed in US pharmacies now, and for some people an inhaler is the first means of emergency assistance.
To cope with the inhalers shortage, hospitals save on supplies. Some health systems conserve dressing gowns, medical masks and other items, and therefore medical specialists have to save on important essentials.
According to a letter dated March 19, hospitals in some US states suffer from a lack of MDIs, as a demand for them has increased significantly and the orders are often delayed.
In order for the patients with coronavirus to receive proper treatment, hospitals try to reserve inhalers in advance.
Specialists cannot specify how long the situation with a shortage of inhalers will last, since it is observed throughout the country.
The medication Albutrol is a fast-acting bronchodilator. It improves airflow to the lungs by relaxing the muscles of the airways.
Inhaler manufacturers are trying to help and solve the problem. One type of MDI is Ventolin inhaler. It also contains Albuterol.
A GSK representative commented on the situation and noted that today the demand for Ventolin inhalers in the USA has grown incredibly, and these inhalers are necessary not only for the patients with COVID-19, but also for people suffering from chronic respiratory diseases and asthma.
If people with asthma lose the opportunity to use their inhaler, this can lead to dangerous consequences, as they will not be able to breathe and will be hospitalized.
Some patients with asthma and chronic respiratory diseases worry that they will not have enough Albuterol reserves that they have today. Some of them, having received a doctor's prescription to fill their inhaler with Albuterol or get a new inhaler, have to wait for a long time before the drug goes to their pharmacy. This situation is very serious, as some patients have frequent asthma attacks, and without the drug each attack is a threat to human's life.
Alternative
Another device capable to deliver Albuterol is a nebulizer, which is more extensive than an inhaler. Nebulizers are not in such great demand as inhalers. They differ in the method of application. Medical experts note that if they have to use nebulizers for patients with coronavirus, this will require taking additional equipment to protect doctors from the virus. As a consequence, there will be a shortage of additional protective equipment and an additional problem will arise.
According to the president of the Academy of Allergy, Asthma and Immunology in America, people with asthma or other respiratory infections can take nebulizers with the drug Albuterol as an alternative.
Concern was also expressed that patients might suffer from a deficiency in Albuterol, the drug that they constantly take.